Training Manual on Standards
In 2019, MARKUP-through GIZ- conducted a standards capacity gaps assessment in Burundi, Kenya, Rwanda, Tanzania and Uganda. Among others, the assessment established that one of the obstacles to effective development of harmonised standards in the region was the lack of sufficient knowledge and absence of key reference materials. Technical and managerial capacities for standards development and harmonisation were found to be weak in key institutions in Government and the private sector.
In order to address these gaps, MARKUP has developed a training manual comprising basic elements on standards development and harmonisation . The manual draws heavily on the EAC Principles and Procedures for Harmonisation of Standards of 2016, as well as other international guidelines and has eight modules.
Content
Training Manual on Development and Harmonisation of Standards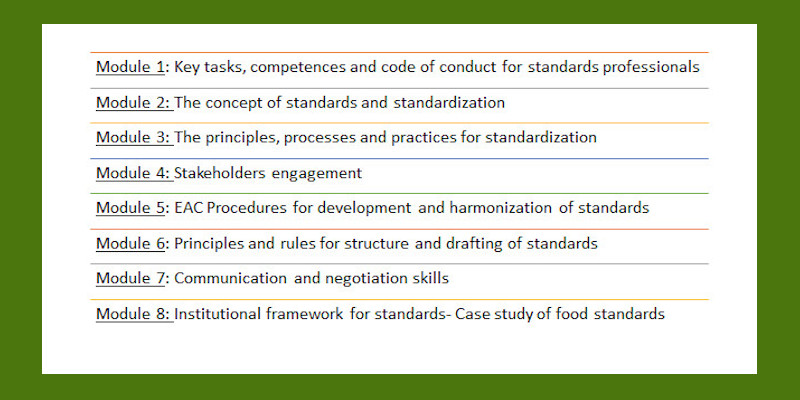 Following comments from the EAC Secretariat and standards bodies in the EAC Partner States, the manual was validated at a virtual regional stakeholder meeting on 17th July 2020.
Speaking at the validation meeting, Dr. Martin Kimanya, MARKUP Standards expert said, "We see the manual as a tool to equip, first and foremost, current and future members of Standards Technical Committees. The manual will then be used for regular training of various stakeholders in order to steer the process of standards harmonisation in the region, and to strengthen compliance among the private sector operators."
The manual is targeted at national standards bodies, food safety regulatory agencies, relevant officers from ministries responsible for agriculture, trade and health, private sector organisations, as well as non-state actors such as research institutions and consumer groups. MARKUP is working with national standards bodies to roll out the training from November 2020.
.