Speciality Coffee networking
Coffee farmers and exporters in the EAC are making inroads into the high grade, single origin or single estate coffee also known as specialty coffee. Through the International Trade Centre (ITC), MARKUP is working to put EAC specialty coffee on the world map through supporting selected companies to participate in the SCA World of Coffee event in Warsaw. Originally slated for June, the event has been moved to 15-17 October 2020. Prior to joining the event, companies will go through targeting training to ensure that they make the most of their participation.
From 20-22 July, twenty five SME's in the EAC's Specialty Coffee export sector will take part in Marketing and Communications Training ahead of the Warsaw SCA event. Training will focus on branding and effective buyer negotiations and how to appeal to international markets.
Emmanuel Rustira from Baho Coffee in Rwanda has high expectations for the training. "First of all, I expect to upgrade my knowledge and skills in marketing and communication for to help create a better and more successful business, understanding the modern ways of marketing, attracting buyers as well as improving my level of strategic thinking and being able to react to market requirements and penetration. I also want to extend my business network, copy what others are doing better than me and focus on how to approach and communicate with my buyers."
Amani Daudi from Kayanza Speciality Coffee is one of the five participants joining the scheme from Burundi. "During this training, we will have the opportunity to learn how to communicate with customers in order to achieve the triggering of coffee sales contracts", he said. This of course is the goal for any farmer and business owner and one of the key focuses of MARKUP in creating stronger links between the East African and European markets.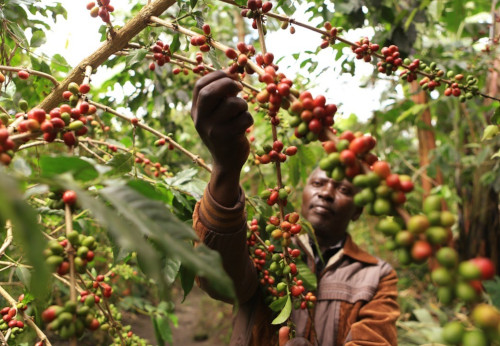 For Leonard Karasi from Juru Coffee in Rwanda, through the training "I hope to learn the skills and ability for developing marketing tools and messages, which will help the company to promote our coffee. This includes developing appropriate and attractive logos and flyers with a good marketing message."
The Warsaw World of Coffee event will put everything into practice, with the participants from Kenya, Tanzania, Burundi, Rwanda and Uganda having their own exhibition space within the MARKUP booth, learning about European buyer expectations and market demand, and also being part of a coffee cupping event.
For Leonard, he hopes through this opportunity for networking "to be able to connect and sell our coffee to new coffee buyers, as well as to link with financial institutions to fund our business plan." According to Amani "It will also be an opportunity to remove the brokers between us and final buyers, and allow us to negotiate directly with the final buyer." Emmanuel is keen for Baho Coffee to "get to another level of exposure in many ways that contribute to business growth and success. We will have improved, upgraded marketing materials and look forward to reaching another level of maturity as a company, creating awareness and getting exposure."
MARKUP works across the region to help SME's improve their market access, understand new markets, find and meet new buyers, and be better able to market and promote themselves and their products against global competitors. We will be following some of the participants of this initiative throughout their training and reporting from Warsaw to find out how they are faring.